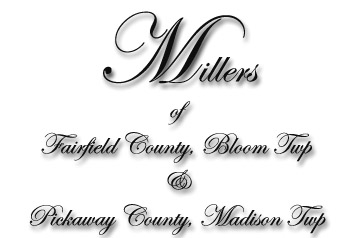 Fairfield County Tax Records Pickaway County Tax Records Miller DNA test
Notes from Fairfield County Ohio Estate, Will and Partition Records
regarding Miller, Alspach, Benedum and Crist
Michael Alspach 1839 Estate Record Case#1688
rented farm from Jacob Mayers
Henry Alspach administrater
Michael Alspach 1862 Partition Record PB 9-141
Page #141, 1862, Micheal Alspach's partition records state he died 15 Nov 1836. His heirs were the heirs of deceased Henry Alspach Sr. who were Michael of Eaton Co., MI, Philip of Lagrange Co., IN, Daniel & Samuel of Miami Co., IN, Benjamin, the children of Lovina Fall, deceased daughter of Henry Alspach, Sr., who were Lanah and Lovina Fall of Fulton Co., IN; the children of Henry Alspach Jr., deceased, who were Isaac, Noah, Henry, Benjamin, Sally, and Nancy of Sandusky Co.; Henry Burger who was the son of a daughter of Michael Alspach who married a Burger; the children of a daughter of Michael Alspach who married a Himrod and whose names were George Himrod, David Himrod and Leah Himrod married to Henry Burgar; Barbara Alspach Swinhart of Stark Co. "Partition Record Abstracts, V2, 1851-1900 Fairfield County, Ohio"
George Benadum 1830 Estate Record Case#701 ˝
George Benadum 1837 Will Case#1607 WillBook 2-498
The estate of George Benedum of Liberty Twp, will written Jan. 1, 1835 and filed in 1837, listed the executor as son Phillip. One of the heirs was "Katharine, wife of Henry Hartman", "Fairfield County Will and Estate Abstracts, Cases 1001-2000, Jean Collier, Fairfield County Chapter OGS, 1998, p 43.
John Benheimer 1824 Estate Record Case#397
John Crist & heirs 1823 Estate Record Case#375
Simon Crist 1851 Will Case#2667 WillBook 4-83
Abraham Miller 1822 Will Case#309
Abraham Miller 1831 Will Case#1644 WillBook 2-314
of Walnut Twp. (owns land in several twps.)
wife: Elizabeth
children: Henry, Abraham, Polly, Anna, Barbara, Elizabeth, Sally, David
Ann Miller 1811 Guardianship Case#1107
Christian Miller 1808 Will Case#49 WillBook 1-144
of Pleasant Twp
Wife Elizabeth
Children: John, Abraham, Christian, Elizabeth, (Samuel and Jacob under 18)
Daniel Miller 1821 Estate Case#296
of Rushcreek Twp
Admin: Joseph Beery, Abraham Beery, John Keller
Elizabeth Miller 1811 Guardianship Case#1079 WillBook 1-214
Andrew Hite Sr. is nominated guardian
Samuel Miller of Walnut Twp. wife guardians to Kitty, Mary, Frederick, Margret, , Eliz.
Felix Miller 1815 Estate Case#160
heirs: in 1817: Catherine, Elijah 16, Jno 15, Hannah 13, Elizabeth 7, Felix 9, James 3
wife: Elizabeth
Robert Reed administrator
George Miller 1805 Inventory Case WillBook 1-81
nothing of interest
George Miller 1808 Will Case#108 WillBook 1-137
of Richland Twp
children: George (oldest son), John (youngest son), Mary Harman, Catharine Barhmar, Eve Oardone, Susan Sphou, Barbara Fisher, Elizabeth Miller, Rosanna Miller
wife: Catharine
George Miller 1822 Estate Case#325
Henry Miller 1828 Estate Case#636
of Greenfield Twp
admin: Jacob Wagner, David Wintermoth, Henry Killer/Miller
George Benedum Sr is paid $30
There is a Miller heir I can't read: Daniel or Jerimiah or….
Henry J. Miller 1825 Estate Case#446
a sales list: same person as #442 below
Jacob Miller 1811 Guardian Case#1108
John and Ann Miller parents. Jacob is under 18 son. signed by Daniel Hall.
Jacob&Samuel Miller 1811 Guardian WillBook 1-213
Christian Kaeagy guardian.
father Christian Miller
sons: Jacob and Samuel
Jacob Miller 1814 Estate Case#152
of Reading Twp., Fairfield
Daniel Tarkison and Michael Foght appeared
it is a bill of sale of inventory of late Jacob Miller
some buyers: Margaret Miller, John Miller, David Miller, Susannah Miller, Jacob Miller
John Miller 1808 Will Case#78 & 1069 WillBook 1-146
of Walnut Twp
brother Abraham Miller
executor: Christian Cagy
wife Anna
children: Molly, Mathias, Jacob and Anna.
John Miller 1808 Appt. of Executor WillBook 1-208 & 209
same as above
John Miller 1817 Guardian Case#1170
Elizabeth Miller mother and Robert Reed guardians of John Miller, infant son of Felix Miller
John Miller 1826 Will Case#2020 WillBook 2-197
Brother: Philip. Philips wife is Mary. they live in Perry Twp. After their death it is to go to the Lutheran Church.
Peter Prough is son of John's step-daughter Sarah Prough now Sara Gidener.
exec. Samuel Spangler and Samuel Ftehrbof
John Henry Miller 1825 Estate Case#442
adm. Frederick Martin and Martin Miller
wife: Mahala
John Christopher Miller 1822 Estate Case#324
admin: Frederick A Martens and Martin Miller
Polly Miller 1826 Guardianship Case#1316
Adam Wagner 1827 Estate Case#613
mentioned: Peter Miller, Jcob Wagner, Jacob Wagner Jr., Adam Wagner, Michael Alspaugh, Jacob Fisher, Alexander Morehead, David Brandt, John Miller, John Miller Sr., Michael Wagner, John Kline, John Fellers, Henry Miller,
William Miller purchased 1 small hay fork for 15 cents (probably the son of John and Catherine Miller)
admin: Adam and Elizabeth Wagner
wife: Elizabeth Wagner
Catharine Wagner 1825 Estate Case#499 ˝
Daniel Wagner 1832 Estate Case#825
Daniel's 1833 partition records mention his heirs: Daniel Wagoner Jr.; Catherine, wife of Joseph Crist; Polly, wife of Solomon Click; Sally, wife of Joseph Click; Rebecca, wife of John Alspach; Molly Wagoner and minors Jacob, Benjamin, Samuel, John, Lydia, and Henry, "Partition Record Abstracts, V1, 1812-1851 Fairfield County, Ohio", Fairfield County Chapter OGS, 1987, p 18.
Brother Jacob's 1850 partition records mentioned that his heirs were his siblings and his siblings heirs. Those listed for Daniel were: the heirs of Daniel Wagner, deceased, who were Daniel Wagner, John Wagner, Jacob Wagner, Henry Wagner, Catharine Wagner Christ, Mary, wife of Solomon Glick of IL, Rebecca, wife of John W. Alspach, Molly, wife of John Humrickhouse, Lydia, wife of Samuel Bowsher; "Partition Record Abstracts, V1, 1812-1851 Fairfield County, Ohio",
Simon Christ purchased 2 of his hoes May 31, 1832
Joseph Christ purchased a large German Bible, a table, rocking cradle, chairs,…
Daniel and Molly Wagner purchased things
Daniel Miller purchased a horn and bucket
Benj. and James Wimp made purchases
Matthias Benedum purchased a bucket
John Feller purchased stuff
Jacob Thrush purchased wool wheel
John Feller Jr.
Daniel Wagner 1837 Will WillBook 2-526
Andrew Wagner is the maker of the will
children: Jacob (oldest son), Andrew Jr., Samuel, Daniel (youngest son),
Daniel Wagner(heirs) 1840 Estate Case#2307
a John Alspach, Jacob Wagner – not much else
Henry Wagner 1823 Guardian Case#1469
Jacob Wagner, Abm Wildermoth, Danl Wagner
Henry Wagner minor son of decd. Daniel Wagner.
Jacob Wagner 1832 Guardian Case#1547
John Wagner 1832 Guardian Case#1542 & 1672
nothing worthwhile
Michael Wagoner 1815 Estate Case#156
of Greenfield Twp
accomodator: Adam Wagner